Nov 14 2019
Improving your website's search engine ranking can get pretty complicated, especially if you aren't familiar with the ins and outs of SEO.
However, there are several WordPress plugins that allow you to optimise your site for Google. For many users, the best option is Yoast SEO.
Both beginners and experts would agree that Yoast SEO is a must-have plugin for WordPress websites.
With its complete set of easy-to-use functions, it's not difficult to understand why! Learn the basics and the ways you can take advantage of this comprehensive plugin.
How to install Yoast SEO on WordPress
Before you can reap the benefits that come with using Yoast SEO, you have to install it first! Here are the steps to installing it on your WordPress website:
1. On your Dashboard, navigate to Plugins and select Add New.

2. Type in Yoast SEO in the search box. This will give you a list of results to help you find the plugin.

3. Once you've found Yoast SEO, click Install Now. The plugin will automatically start downloading in a few seconds.

4. Finally, select Activate to complete the installation.
You will then notice that a new menu item is added on your WordPress admin bar. It can easily be identified by the label 'SEO' with the Yoast SEO logo on it.

Setting up Yoast SEO plugin
Even with zero background on SEO, setting up Yoast SEO is so simple. This is made possible by the configuration wizard. It will help you configure the plugin depending on your needs.
To access this, select Yoast SEO, then go to General. On the Dashboard section, you'll easily find the configuration wizard.

Upon opening the configuration wizard, it will guide you through several steps. See the sections it will take you through below and find out which option is the ideal choice for each.
Environment
In this section, you will be asked whether you want to have your website indexed. Unless it is still under construction, always select 'Option A' so search engine bots can start crawling your WordPress site.
Site type
Is your website a personal blog? Or perhaps a corporate page? Pick the closest option that matches the nature of your website among the available choices.
Organization or person
Next, you'll have to identify if your website represents an organisation or a person.
Selecting 'Person' will require you to state the name of the individual.  If you choose 'Company', you will have to provide the name of the organisation and upload an image of its logo.
In this segment, you will also be asked to enter your social media profiles. This information is vital to help Google create a highly reliable and information-packed Knowledge Graph.
Search engine visibility
To ensure that your content is visible, specify which content types you'd want search engines to index by ticking 'Yes' or 'No' for each type. For beginners, it's best to leave everything as it is and stick to the default settings.
Multiple authors
Is your blog managed by multiple authors? Then choose 'Yes'. Picking this option will deactivate the author archives to ensure that no duplicate content issues will arise in the future.
Google Search Console
If you aren't using Google Search Console, simply click 'Next' to skip this step. However, this is too good of a tool to pass up as it provides valuable insights about your website's health. Consider setting this up and integrating it to Yoast SEO for a seamless transfer of information.
Title settings
To choose how your titles appear on Google, pick a separator from the options given. It will be displayed between the post/page title and the site name. This is entirely up to your preference, but the hyphen (-) and the vertical bar (|) are amongst the most popular.
Newsletter
Want to receive the most recent news from Yoast SEO? Just type in your email and sign up! Though this section can easily be skipped, signing up for their newsletter is recommended to keep you updated with the latest SEO information.
Yoast SEO Premium and Training
If you want to get the most out of Yoast SEO, you can choose to upgrade to premium and get access to additional features such as internal linking suggestions, content insights and 24/7 support. They also offer online training courses to help you further understand SEO.
But even with just the free version, you'll find that Yoast SEO is a powerful tool that's easy to understand. Simply proceed to the next step if you decide to stick with the basics.
Success!
After going through the configuration, you're all set! You can now go on to close the installation wizard.
Advanced settings
Since the configuration wizard only covers the essentials, you can tweak some of the other settings of the plugin to suit your needs better.
Under the General section of Yoast SEO, you'll find the 'Features' tab, where you can enable or disable certain features of the plugin. You can also check on the 'Webmaster Tools' tab to integrate webmaster tools such as Google and Bing with the plugin.
The next part is Search Appearance. Here, you can customise settings regarding content types, media, taxonomies, archives, breadcrumbs and RSS feed.
If, for some reason, you've skipped the step on the configuration wizard where you're asked to verify Google Search Console, you can still do so.
On the Search Console module, you can connect Yoast SEO to your Google Search Console account, allowing you to view your website data seamlessly.
Another area you should check out is Social. Aside from the feature that lets you connect to your social media profiles, there are more advanced settings available, especially if you have Facebook, Twitter and Pinterest accounts.
Under Tools, you can access the import and export settings, the file editor, the bulk editor and the text link counter. These built-in tools further make Yoast SEO a solid plugin.
Though you are free to make changes, it is not recommended to play around with the settings unless you already get the full grasp of SEO. This is because certain adjustments may negatively affect your ranking.
Using Yoast SEO
Once the plugin has been set up on WordPress according to your needs, you can now start using it. This often pertains to the Yoast SEO metabox as it is the only area that you will use regularly. You can access this under the text editor on every post.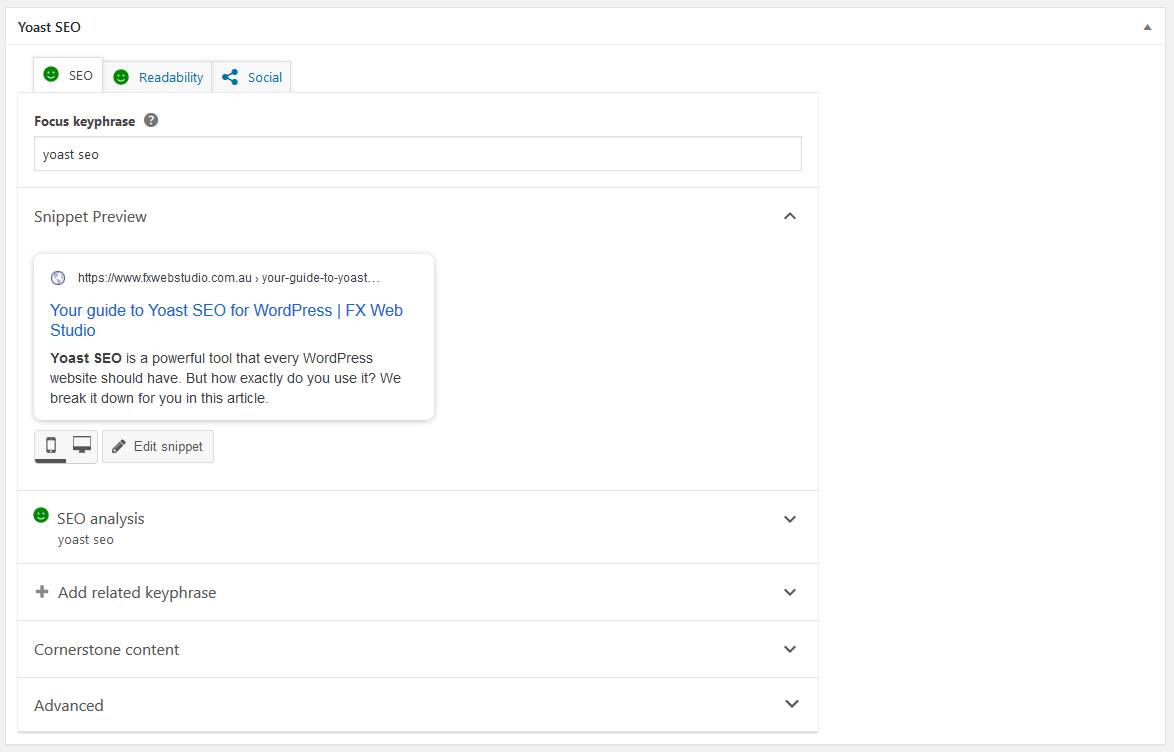 On the metabox, you can type in the meta description and the focus keyword. You are also allowed to customise the slug of the post accordingly.
Because content is very important when it comes to SEO, Yoast SEO will help you optimise your content while writing it. Here are the benefits you can get from this feature:
Readability analysis
Snippet preview
SEO analysis
With all these insightful tools, writing excellent content has never been easier!
---
Yoast SEO is indeed a powerful plugin for WordPress that you should be using by now. It's free, easy to use and, most of all, effective!
At FX Web Studio, we specialise in SEO and we can help you go beyond what Yoast SEO has to offer. If you want to boost your search engine ranking further, give us a call at 1300 090 401 today.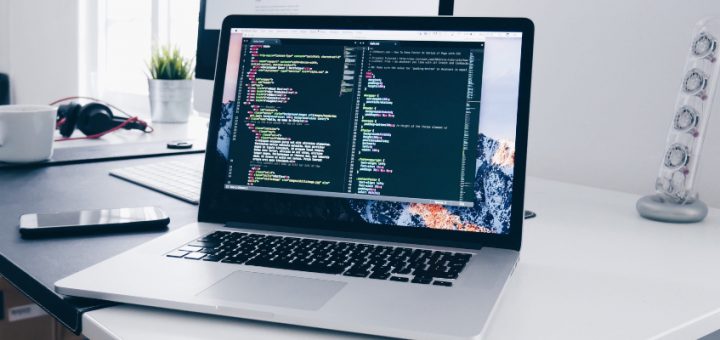 Nov 25 2019
You might have read or heard from most SEO experts how important it is to optimise your website's meta tags. But what exactly are these? Meta tags are part of your site's HTML code that briefly, yet concisely describe the content of your page or post. This is useful to ….
Read Blog